Training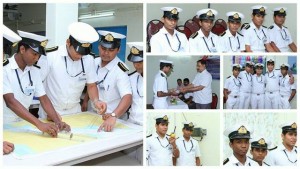 It is very much true that all time management begins with planning, but our strong faith says that real management begins with training. We believe that detailed and professional training is required to deliver the quality services in any field.
PRE-SEA GENERAL PURPOSE RATING – (DURATION : 06 MONTHS)
ADMISSION PROCEDURE :
• In response to the advertisement placed by Rassiya Shipping Services Private Limited in the Newspaper.
Candidates may apply directly without Company Sponsorship.
REQUIREMENT :
• SSC (10th STD.) or equivalent examination with Science and Mathematics
• Aggregate marks of 40 % in 10th with Minimum of 40% in English either in 10th or 10+2
• 25 Copies of Photographs (20 Passport Size & 5 Stamp Size)
• Age restriction 17 ½ to 25 Years on the date of commencement of Training.
• Original SSC Mark Sheet and Certificate
• Ration Card photo copy
• Passport Photo copy